Fairness, Preparedness, Dignity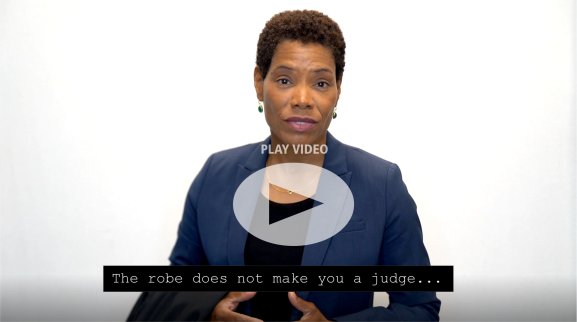 Watch Video: The robe doesn't make the judge, the person wearing it does...
Dear Dallas County Voters,
I am seeking re-election to the 116th Judicial District Court where I have had the privilege to serve as the presiding judge since January 1, 2011. As we emerge from the pandemic, I will employ my ten years of judicial experience, a diligent work ethic, solid preparation, and timely rulings to bring court operations safely back to normal. The more I serve, the more I realize that the robe does not make the judge, the person wearing it does. Every day, I strive to meet your expectation of fairness, preparedness and dignity. I talk about what these three things mean to me in my new video.
Anticipating the need for efficient justice, over the last year, I took an executive leadership course to ensure I am using the most effective administration and management practices to operate the Court and propel it forward. My award-winning staff, recognized by the Dallas Bar Association as one of the most service-oriented in the courthouse, is also eager to assist litigants in docketing matters as soon as practical, setting virtual and in-person proceedings as appropriate and permitted, and observing and enforcing applicable safety protocols.
My commitment to equal justice under the law is unwavering both in the courtroom and in our profession, and I was proud to receive the Dallas Bar Association Martin Luther King, Jr. Justice Award in 2021. On the bench, transparency and independence have been the hallmarks of my service. My overall approval ratings have consistently been above 92 percent in each of the four Dallas Bar Association Judicial Evaluation Polls that have rated my work.
Aside from doing the work necessary to help the Court maintain its position among the most efficient and well-regarded at the courthouse, I also have a desire to leave the judicial system better than I found it. As Co-Founder and Chair of the Implicit Bias Task Force in the Dallas Civil District Courts, I will continue to lead in the effort to have the Texas Rules of Civil Procedure amended, and Texas Pattern Jury Charge books revised, to include an implicit bias jury instruction.
Should I continue to have your support for another term in office, you can count on me to leverage my experience to advance the cause of justice in the 116th Judicial District Court and in the great State of Texas.
In Service,
Hon. Tonya Parker